-----
Roads
Crystal Lake, IL
-----

Heading east on Route 14 at Main Street

To the left is the Pure Oil service station,
where King Wok is today. Ahead is the farm where Kmart and
Crystal Point Mall will one day be located.



You can visit my McHenry County Roads page to learn about the
history of state and federal highways in McHenry County!


The Wye

In Crystal Lake, the intersection of Routes 14 and 31 was called the wye. This word has its origins in railroad terminology, where it is used to describe a Y-shaped, or triangular, junction of rail lines.

Previously known as the Simpson farm and Steerville, a three-way intersection was created here in 1925 when two new state highways, Routes 22 and 19, met at this point. The four-way intersection was completed in 1930 when the last section of Route 61 was finished. By the mid 1930s, these state highway numbers had been dropped, to be replaced by US Routes 14 and 12.

To the right is a 1939 photograph of the Crystal Lake wye prior to construction of the overpass. The white building on the far side of the intersection is a gas station. At the southeast corner was the Crystal "Y" Inn, which would later become the Branded Steak House and Hob Nob.
In 1938, the number of fatal accidents at this crossing was the reason Route 12 was rerouted into Lake County, to be replaced by Route 31. With this in mind, officials decided in 1937 to construct a grade separation to make the intersection safer.

In 1938, the adjacent property was acquired and the ramps were staked out. Preliminary plans called for Route 14 to go under Route 31, but this was soon changed. Construction began in July 1939 and was completed in December 1939.

To the right is my reconstruction of the wye before the separation, based on a 1939 aerial photograph.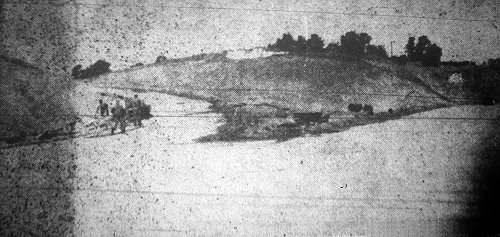 Cutting a ramp into the hillside. This is the southwest corner, where
Chuck E. Cheese and Outback Steakhouse are today.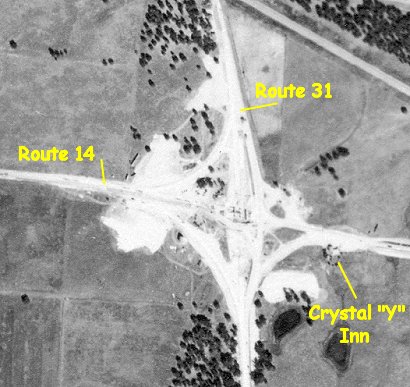 1939 aerial photograph during construction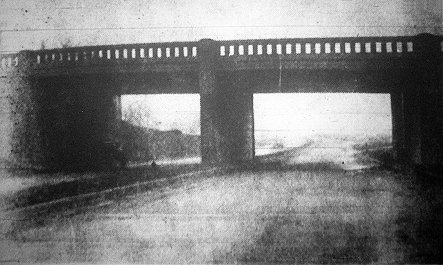 The completed overpass. This structure would remain in use
until 1998, when the entire intersection was redone
and a new overpass was built. The intersection was
referred to as the "wye" well into the 1950s.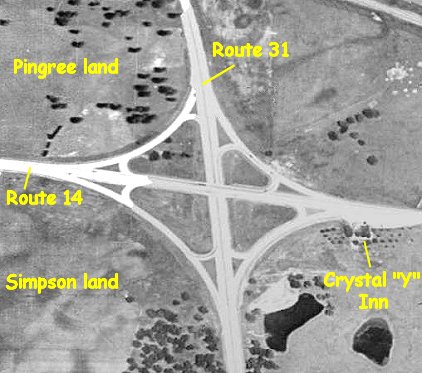 After completion (1946 aerial photo)

Route 14 had two 10-foot lanes in each direction separated
by a four-foot curb, and Route 31 had two 11-foot lanes
in each direction separated by a ten-foot parkway. The ramps were
20 feet wide and the overpass had a 14-foot clearance.





return to:
<<< Crystal Lake History
---