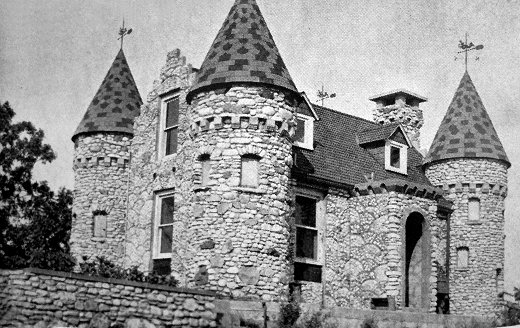 One of the most unique structures in McHenry County is Castle Vianden, located in Fox River Grove. There was a time when this beautiful home was a showplace and honeymoon retreat, easily visible from Route 14. Today it is a private home almost totally obscured by trees.


---

Theodore Bettendorff was born in 1899 in the village of Vianden, Luxembourg. On the hill overlooking the village was a castle, unoccupied for centuries and in ruins. As children, Bettendorff and his friends roamed the ruins of Vianden Castle.

Bettendorff came to America in 1920 and settled in Fox River Grove. He purchased a lot in 1926 and built a small three-room frame house on a hill overlooking the town. In 1931, at the height of the Depression, he was unable to find work. He decided to keep busy by working on his house.

The first step was to dig a foundation. At this point, he discovered the rich stone bed on which his house was built. He dug up the stones and began to construct a stone facing for the outside walls of his house. The finished exterior resembled a castle, which led him to start building a small replica of the castle he remembered from his childhood. His home became known as Castle Vianden.

Bettendorff obtained some old postcards to guide him. Day by day, stone by stone, the castle grew. First came turrets at each corner. One contained a shower, one a restroom, one a clothes closet, and one a circular staircase leading down to the basement and up to the attic.

After the turrets were completed, Bettendorff constructed a large granite fireplace in the living room, using stones he found in the country and hauled back in his car. This was followed by heavy walls, a moat and a drawbridge.